Today I am linking up with Lindsey at
The Bargain Blonde
again for Friday Favorite's. I don't really have many favorite things this week...mostly because of all the craziness that has been going on in my life...but for the sake of the game, here it goes (Sorry for the loser pictures - I am not on my home computer!).
Favorite Treat - Alyssa's Cupcakes!!!

When my Mom was finally feeling better, she declared she wanted something sweet. Luckily, my high school friend opened a Cakery
down the street from my house this past year. I hopped in the car and drove on over to pick up some cupcakes and lo-and-behold I found three delicious bits of heaven. Red Velvet, Vanilla x 2, and Vanilla Blueberry somethingorother. They were SO good, and Alyssa's fiance (also my high school friend) gave them to us on the house in honor of my Momma! If you are ever in Wallingford, CT, CHECK HER OUT. She also makes custom cakes and cakepops.
She. Is. Awesome.
Favorite Meal: This one above that actually stayed in my belly
I am one of those people who can't eat when they are stressed out. And if I do eat, well, it is usually is a waste of food. So this morning when I ate those veggies, marinated mozzarella, fried egg, and Italian bread ...and it stayed in my belly - I was a happy girl. Yay for being able to eat! Yay for delicious Italian foods!
My Mom was having a little bit of a difficult time accepting the fact that she now has a pacemaker. She is after all, only 60 years old, and has never had any sort of heart problems before. I totally understand where she is coming from - finding out that she is not invincible (I thought she was too!). But now, her heart is awesome. It has an amazing new friend (that she won't let me name) that helps it beat at a normal rate. And she has added years to her life by getting the pacemaker. So now, her heart is sort of invincible. And that makes it my favorite heart of the week.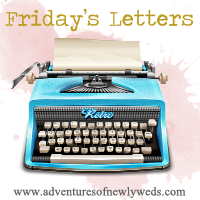 And now for one of my new favorite weekly installments, Friday's Letters, brought to you by
Adventures of Newlyweds.
Hope you enjoy them!
Dear Gwen,
Thank you for taking a crap on my bedroom floor. It was such a nice welcome home present. I don't even know what I did to deserve it!!! I must ask though, did Mcmuffin call you up and tell you I love it when animals shit on my bedroom floor? Or did you come up with that on your own? .... Do it again and you aren't getting fed.
Dear Bloggers,
I have a really awesome giveaway going on. It's for a personalized monogram tumbler. You should enter it, especially because I really want it for myself. And EPJDesigns is awesome.
Please enter it. ASAP.
It ends on Sunday. Thanks.
Dear Pacemaker in my Mom's chest,
If you don't keep her heart beating at 60 or above, I'll ruin you.
Dear Dad,
I know you don't read my blog, so I can write this letter and get out some of my frustrations without having you hate me for acting like a super bitch. I am here to take care of MOM. That means - do not leave your dishes, dirty clothes, shoes, etc. anywhere that they don't belong. I know I have been picking up after you since I got home, but it's only because I hate messes, and its going to stop now. You need to pick up your shit - or I am going to steal all of your cash and go buy a new pair of Jack Rogers and a Fall wardrobe from J. Crew. I'm serious as daylight. PUT YOUR PLATES IN THE SINK. TURN ON THE WATER. USE SOAP AND SPONGE TO WASH PLATE. DRY WITH TOWEL. PUT AWAY. The End.
Dear beautiful Brooks sneakers I left in Maryland,
Please walk your beautiful selves to me in Connecticut. I really need you so I can work out before we go to the beach. No one here fits me as well as you do. I miss you.