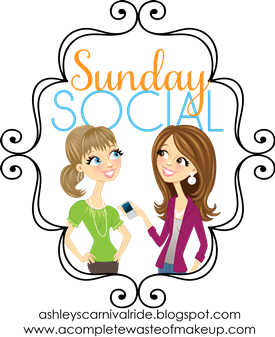 This morning I am wide awake a whole 2 hours earlier than I was yesterday. Could it be that I went to bed at 8pm? Probably… Anyways, I am linking up with Neely and Ashley for Sunday Social. It's my first time linking up and the point is to answer some questions about myself. Here it goes!

1. What is the name of your blog? How long have you been blogging?
I have been blogging since November 2008.

2. Why do you blog?
I started blogging after reading a bunch of wedding blogs while researching my own upcoming nuptials. I started to document my wedding planning, and then after my wedding I kept on blogging about my life.
I blog because I love the social aspect. I have made quite a few "blog friends" through blogging and I cherish our "relationships." I hope to continue blogging for as long as I can. I can't wait to have a baby and be able to blog all about his/her life. Then the little one can read about it someday!

3. What is the first blog you ever followed?
Ah I don't remember! It has been so long… hmmm.. maybe a life more exciting by Sarah because she was one of my first followers. Also, Snippet and Ink. because they have the best inspiration boards for wedding planning!

4. What is your favorite post you wrote in 2012?
Oh boy, I don't know how to pick that… I never really have favorite posts, but I'd have to say that my Happiness Project posts were really great to write. I started blogging about my Happiness Project so I could hold myself accountable for changing my life. I feel that I opened myself up to a lot of people – people who I never thought even paid attention to my blog. I also know that I inspired others to try their own HP, and boy was that flattering. To be honest, I feel that I am still working on my own Happiness Project, but for the most part, my life has changed drastically and It's fantastic.

5. What are your blogging goals for 2013?
Well, I am not really creating any goals for 2013, as talked about here, but I can say that I want to be a better blog reader and commenter. I also want to keep my blog interesting and positive!

6. Top 3 favorite blogs to follow?
This is hard… I have a lot that I like to read. Here are the ones that I am currently checking daily and have made it to my quick bookmark list: MODG, I Wore Yoga Pants to Work, a tsp. of nutMeg. MODG and Yoga Pants are hilarious – and I recently started stalking Ms. Yoga Pants on twitter (and I want to hang out with her in real life). As for nutMeg, she is a good friend from high school whom I recently became in contact with again. I love reading her positive and uplifting posts, as well as finding out what she is up to out in CO. She is so sweet, check her out!

Andddd that's a wrap. If you're new, hope you learned a little more about me and WELCOME! You should definitely stick around =0)
P.S. Do you love Starbucks? Enter my giveaway here!