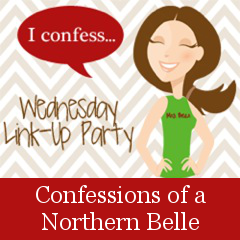 Thank you SO much to Lisette from Northern Belle Diaries for covering for me last week.
As most of you know I was in Norway visiting some friends… doing some unintentional things that were very "Confession" worthy.
I confess… I drank too much wine and passed out the first night we were in Norway. No one could wake me up. However, I couldn't have been too tired because the video my husband took shows me smiling, pointing to the ceiling, and doing a little shimmy shake – all while passed out.
I confess… I was a little mortified that my sort of new friends saw me in such a state. Then I decided that I showed them I was comfortable in their home and broke the ice for B to act like an ass. I am so thoughtful.
I confess… I threw up in gas station bathroom in the middle of Norway after getting carsick. Apparently I am a loud puker – because Lene told me the whole gas station heard me. In Norway, they call puking "Calling to the Elk" (clearly b/c vomiting sounds like Elk calls).
I confess… I drank SO much fancy wine and champagne on my trip that now I have cupcake top. I do not regret these actions – however my ass does.
I confess… I ate reindeer meat and caviar in Norway. Before eating the reindeer, I couldn't stop singing "Rudolph" and after the caviar, I was singing "Under the Sea." I'll blame both of these instances on the a-a-a-alcohol.
I confess I have been a bad blogger. Not only have I not responded to a bunch of Passionfruit ad requests (I AM SO SORRY), but I also have yet to share some amazing things some friends sent me to try out, AND I haven't been commenting on link-ups. I promise to change all of this soon.
Well, that's it folks. I hope my confessions were entertaining.
I can't wait to read yours! (and I will!)